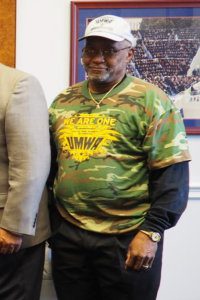 The UMWA mourns Brother Jimmy Thomas, the President of UMWA Local Union 1928, who passed away from COVID-19 this morning.
Jimmy marched, rallied and lobbied for 10 years to save UMWA retirees' pensions and health care. If you have a pension and retiree health care today, Jimmy is a major reason why. We will be eternally grateful to Brother Thomas, and ask everyone to join with us in prayers for him and his family.
He was the son of Booker, Sr. and Lue Bell Gibson Thomas and graduate of Westfield High School.
Since retirement in 1999 from Jim Walter Resources #3 Mine, Jimmy worked with Thomason Law. He was currently president of UMWA Local #1928 and had been an advocate for miners' pensions and healthcare.
A daughter, Tamika Dial and brothers, Booker, Jr., James D., Allen and Kenneth predeceased him. Memories remain with sons, Eric Bevelle and Marco Thomas; siblings, Joyce, Eddie, Glenn, Don (Constance), Charles and James E. (Vanessa) Thomas; granddaughter, Aly.
Calling Hours at Johnson Memorial, Bessemer, Wednesday Noon until 8:00. Remembrance Hour is 11:00 Thursday at Highland Memorial.
To Plant Memorial Trees in memory, please visit our Sympathy Store.
Fill out the form below if you would like to leave a message for the family:
Error: Contact form not found.