Source: News Channel 2 
November 19, 2020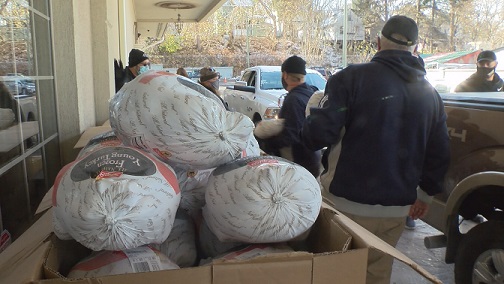 Ilion, N.Y. – Cars lined up in Ilion Thursday morning to have a turkey and some trimmings put into their trunk or backseat to help them have a happier Thanksgiving this year.
This turkey giveaway, put on by CNY Labor Council, was specifically for United Mine Workers Local 717 union members, former Remington workers who lost their jobs last month when Remington closed its doors due to bankruptcy.
When you couple COVID with Remington closing its doors, this Thanksgiving for the nearly 600 former Remington workers is going to be a rough one, but their hope is that the new company, Roundhill Group, which purchased Remington's Ilion assets, will open the doors back up soon, and hire many of them back, and then next year, they won't be waiting in a line for a turkey.
United Mine Workers Local 717 President Jeff Madison says he would like to see as many of the nearly 600 workers let go hired by Roundhill Group, "I'm hoping that they talk to the union again. I'm hoping that they want the union back in there and then it would go by seniority and they would hire the senior people first, then go all the way down to the bottom. I heard 400 to 450 people. I'm hoping there will be more, I'm hoping that everyone will get to come back."
Many of the workers are out thousands of dollars in severance pay and unused vacation that they have not been paid for by Remington after it went bankrupt, something the workers, including Brian Thayer who was in line for a turkey, feel they are due under their union contract, "They owe us the money, they also owe us vacation, We're only asking for what is ours. We're not asking for any more, just what's owed to us."
Rusty Brown, former UMWA Local 717 President, who also lost his job in October says this is a very difficult time for everyone, "Who would've ever thought that all of us that work at Remington would be forming this line for free turkeys. I mean times are crazy and we all just want to go back to work."
No word yet on how soon Roundhill Group will receive its federal firearm license which allow them to open.
Written by: Gary Liberatore