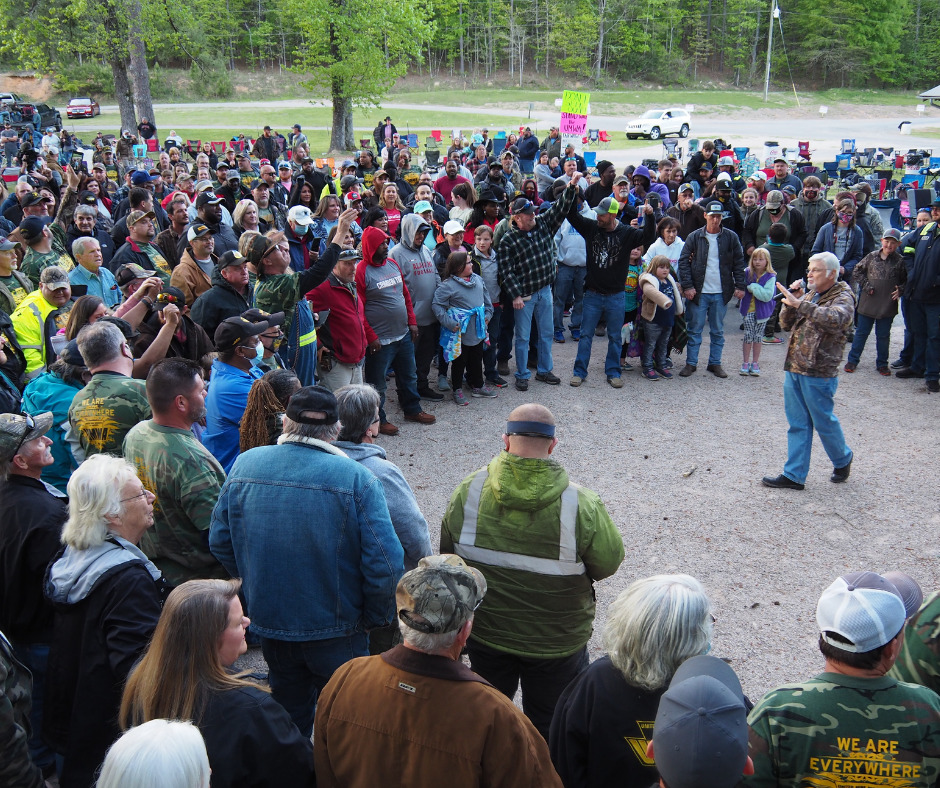 On April 1, 2021 the UMWA International Executive Board announced unanimous support for the unfair labor practice strike against Warrior Met Coal. Negotiations between the UMWA and Warrior Met Coal have been going on since January 2021. After going on an unfair labor practice strike in April 21, 2021, the UMWA held its first of many solidarity rallies at Tannehill State Park in Bessemer, Alabama to bring miners, families and supporters together to discuss the importance of remaining diligent in the fight against the coal company. The UMWA has received an immense amount of support from our labor brothers and sisters, local politicians and the surrounding communities since announcing its action to strike.
The UMWA represents approximately 900 workers at Warrior Met's #4 Mine, #5 Mine processing plant, #7 Mine and the company's Central Shop, all located near Brookwood, Ala. The miners are members of UMWA Local Unions 2245, 2397, 2368 and 2427.
Warrior Met Coal recently paid bonuses to upper-level management, while miners accepted pay cuts in 2016 to keep the company viable after filing bankruptcy. "We risk our lives every day to go underground and do a dangerous job," said Local Union 2397, Number 7 Mine and Longwall Shear Operator Josh Stewart. "We need to be compensated for that and taken care of. We work six, seven days a week, ten, twelve hours a day and miss all this time with our families. You miss time with your kids, your parents and you can't get that time back. Once it's gone, it's gone."
Local Union Mine Committeeman Brandon Lloyd has worked as a roof bolter for Warrior Met Coal Number 4 Mine for 12 years. "We all have to come out here and show Warrior Met that we're still together on these picket lines and show them that we mean business and we're not going to take being pushed around anymore. We've done it for five years, and it's time that we all step up and do what we're supposed to do and make this fight a success." Brandon's wife Brooke, along with other miners' spouses, have established a food bank for the striking miners' families walking the picket lines. "Right now, money is tight," said Brooke. "People got to eat and their money needs to be going towards paying their bills, house payments and medical needs. Any little bit we can do to help, we just needed to do it. It's as simple as that."
Support Through Solidarity
Charles Smith, owner of Betty Hill Grocery, opens his store after closing hours at 7:00 p.m. on storming nights so that nearby miners can have shelter until the storm passes. He also brings ice to the picket lines whenever he can. "I support the striking miners because it's the right thing to do," said Charles. "Those miners are my neighbors and have supported my business for the past 20 years. They have been with us for all these years, now it's time for the community to stand with them."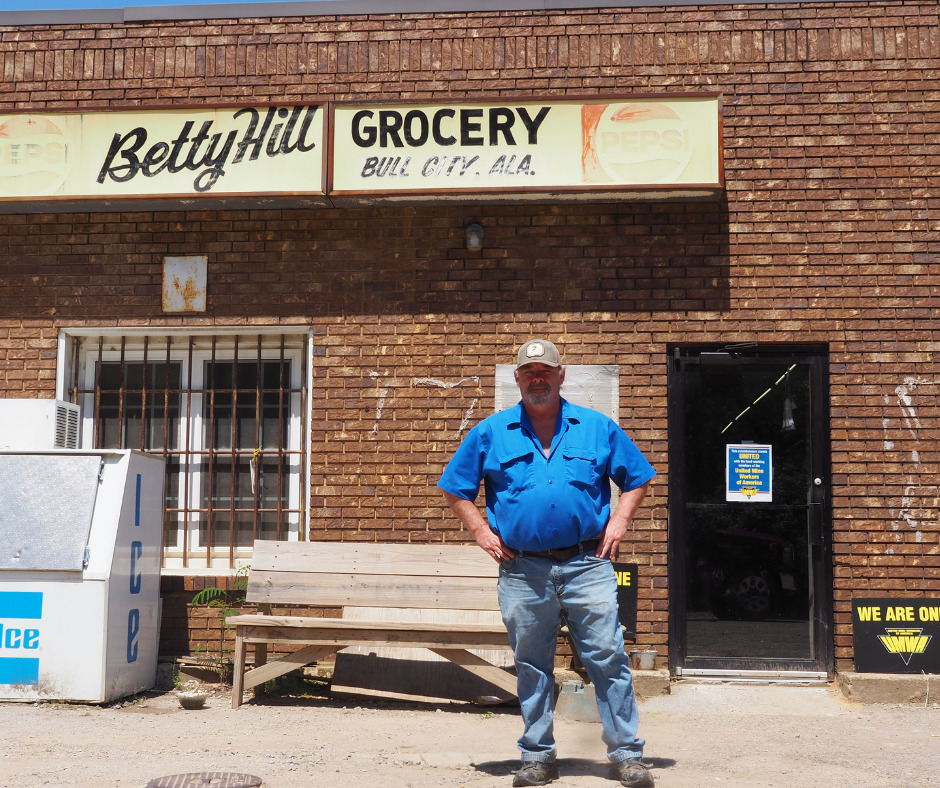 During the fight for healthcare and pensions, we relied heavily on all UMWA active and retired members, nurses, corrections officers and anyone that saw our struggle and was ready to stand up and fight with us. "As retirees, we have been where they are at," said Local Union 1928 President Pearly Longhorn. "We know what they're going through. We've missed shifts and paychecks and we are here to show them that we support them in whatever they are doing. If I could tell the striking miners one thing right now it would be don't give up. As President Roberts always says, we have to stick together; united we stand; divided we will fall. A hurt to one is a hurt to all."
"Somewhere between 50,000 and 60,000 workers die from occupational illnesses like black lung," said President Roberts at one the many solidarity rallies held at Tannehill Park. "They're dying because companies have historically failed to comply with respirable dust standards. Warrior Met Coal is a dangerous company to work for."
UMWA Members Raising the Stakes
On May 25, 2021, hundreds of miners and their families marched to Warrior Met Coal #7 Mine's North Portal. A group of 11 miners led by President Roberts blocked the mine entrance to stop scabs from entering or leaving the mine at shift change. They were arrested and charged by the Tuscaloosa County Sheriff 's Department with trespassing on company property. They were released on bond on May 26th, around 4:00 a.m. Later that day, the Union held a solidarity rally at Tannehill State Park, west of Birmingham.
Warrior Met workers made sacrifices that brought the company out of bankruptcy and while management was receiving bonuses, miners took pay cuts and benefit deductions. Wall Street doesn't know us, our families or our communities," said Local Union 2427 Recording Secretary Brian Seabolt. "We don't need Wall Street corporate values operating these mines. We need Alabama working values. What the coal companies like Warrior Met don't understand is that we want them to be successful, but they need to realize they can be both successful and fair to workers at the same time."
Hundreds of our UMWA Brothers and Sisters are currently engaged in an Unfair Labor Practice Strike against Warrior Met Coal in Alabama. We have established a Strike Aid Fund and are accepting donations that will be used to help our Brothers and Sisters in their time of need. The UMWA International added the first $50,000 to the fund. This is to provide additional support on top of the selective strike benefits they receive. We want to thank those who have already contributed along with those who will contribute to assist our brothers and sisters in need. All donation checks are to be made out to the UMWA 2021 Strike Aid Fund, and mailed to:
UMWA 2021 Strike Aid Fund
P.O. Box 513
Dumfries, VA 22026