There is something to be said about Local Union 1200's efforts to make their work environment safer every year. That shows the commitment they have to safety in general, but more importantly it demonstrates how they look out for one another. These Members produce a product many of us didn't even realize we use. I would guess that this is the first time many of our members even realized they used bentonite. We are very proud of the Members of Local 1200, and we should recognize them for their commitment to always looking for ways to improve safety standards.
— Cecil E. Roberts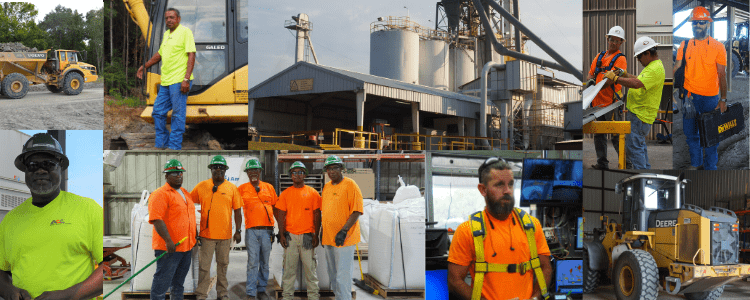 Members of United Mine Workers of America Local Union 1200 work in Letohatchee, Alabama, just outside of Montgomery. The Members operate the open pit clay mine, the Sandy Ridge processing plant and the Letohatchee packaging plant, owned by the American Colloid Company. Sandy Ridge and Letohatchee are a Bentonite clay mining operation that produces a proprietary mixture of bentonite and yellow clay. Members refer to the surface mine as "the pit" where there are deep visible layers of yellow and bentonite clay. "The pit contains remnants of volcanic ash traced back 60 million years," said Local Union 1200 President Michael Boone. The mixture is transported from the surface mine to Sandy Ridge where it is processed and prepared for transportation by truck or for packaging and distribution out of the Letohatchee bagging plant.
Sandy Ridge
Bentonite clay has many commercial uses. It is utilized in the foundry industry for molds and casts. Other uses include building material, waterproofing, cat litter, drilling muds, animal feeds and wine and juice clarification. "By the end of this year, we will have processed 100,000 tons of clay," said Local Union 1200 member Eddie White. "Once the clay mixture has been mined from the pit, it's taken to Sandy Ridge to be processed. This process consists of crushing, grinding and screening the bentonite mixture." When the final mixture is completed, the bentonite is transported by bulk truck to the local customers or sent to the Letohatchee packaging plant where it is portioned, packaged and shipped all over the world.
Letohatchee
"We handle packages from as small as 50 pounds up to 2,500-pounds," said Local Union 1200 member Clayton McMeans. Clayton has driven one of the two Letohatchee packaging plant trucks for 22 years. "I joined the Union in 2010 because I know how important it is to have someone who's got your back. We rely heavily on each other every day to operate machinery and complete physically taxing jobs. The Union gives us a leg to stand on when it comes to ensuring we are safe on the shop floor."
Making Safety a Priority
Recently, Sandy Ridge and Letohatchee implemented several new safety features at the plants to ensure every employee is working in a safe and secure environment. "We have implemented safety gates and walkways at both plants and completely renovated the main breakroom," said Local Union President Michael Boone. "Michael became Local Union President in 2017. Prior to that, he served as Local Union Vice President." said International District 20 Vice President Larry Spencer. "A few years ago, Michael really stepped up and took charge of the Local. He is truly a leader at Local 1200 and within District 20." "A lot of changes have been made this past year that make us feel safer on the job thanks to the Union.," said Local Union 1200 member Joe McMeans. "The Members of Local Union 1200 are remarkable individuals," said International District 20 Vice President Larry Spencer. "They really do look out for one another. They all understand what goes into producing a quality product, more importantly they know how to do it safely. I couldn't be prouder of these Members."