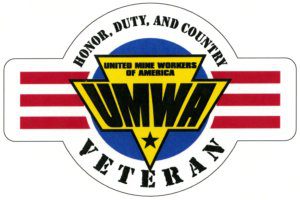 Calling all veterans!
Be a part of our Union Veterans Leadership Council!
Our veterans are some of the most dedicated and hard-working union members and we thank you for your service and commitment.
What you will receive:
A UMWA Veterans Hat
The most up-to-date information on all veteran resources
You will also be added to the UMWA Activist Team, where you can receive the most recent UMWA Press Releases and upcoming events.
UMWA – Lucernemines Office
51 Eleventh Street, P.O. Box 200
Lucernemines, PA 15754
Or submit the form electronically:
The UMWA Union Veterans Leadership Council is on the front lines of our fight to protect working families.
The Council played a huge role in lobbying in Washington D.C. to secure health care for 22,600 retirees and their families.