March 25, 2020
March 16, 2020, was the 80th Anniversary of the Willow Grove Mine Explosion. Unfortunately, due to the global pandemic of COVID-19, the dedication ceremony for the statue was cancelled. However, the placing of the memorial stone and statue was still conducted at the memorial site on Saturday, March 21, 2020.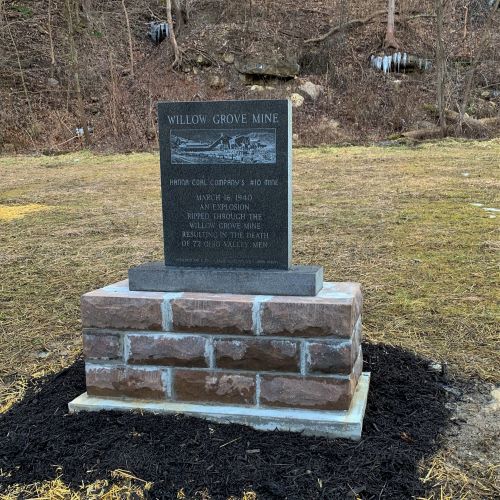 On March 16, 1940 Willow Grove No. 10 Mine, recognized as one of the country's model bituminous mines, experienced a devastating mine explosion resulting in the death of 72 men.
March 16, 1940, at 11:10 a.m., the mine dispatcher made a telephone call to the surface reporting that smoke and fumes were coming down the Main West and driving men from the underground shops where they were unable to reach the airshaft to determine if a motor or transformer was burning.
At 12:00 p.m., 91 miners were helped out of the mine by members of the rescue crew, in which many were burned and bruised with the majority experiencing fatal effects of the poisonous gases that filled the tunnels. Those remaining, including two officials, were killed by the on-sweeping smoke and fumes.
The horrific gas explosion caught 180 men, killing at least three and injuring many. The fate of those men still trapped in a chamber known as, "Twenty-Two South" three miles from the mine entrance were deemed "uncertain" after the explosion.
"It is with a heavy heart that we had to cancel the Willow Grove Mine Monument reveal. We want to make sure we honor the men who died during this horrific explosion and though we couldn't hold the event this year, we are happy that we are able to recognize the lives that were sacrificed with this monument." – Rick Altman International District 31 Vice President.
The UMWA District 31 Subdistrict 6 purchased the stone memorial and an individual donated the statue. The Ohio Department of Forestry claims property ownership of the land for which they gave the UMWA permission to create a permanent memorial site on.