Source: Union Plus
April 5, 2021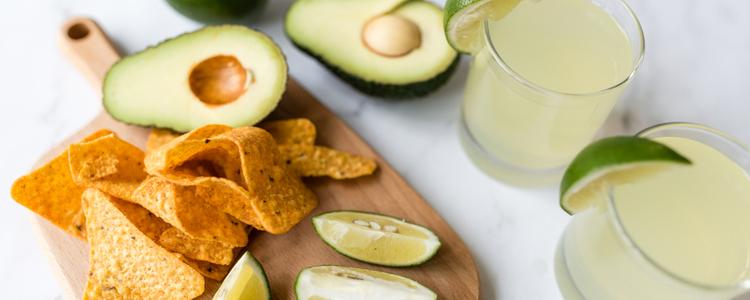 Your Cinco de Mayo may look different this year, but with some creativity, connectivity and some delicious union-made recipes, it can become a fun, socially-distant, fiesta!
Did you know that many of your favorite Cinco de Mayo dishes can be made with ingredients picked, produced or packaged by your fellow union members?
We've gathered some great recipes to kick off the fiesta fun. Whip up these Cinco de Mayo favorites, gather your friends and family *virtually* (we've got tips just in case you're not a digital expert!) and enjoy your socially-distant fiesta. Next year….we'll do this in person!!!
Make your own Guacamole and Dig into this 7 Layer Dip!
"Give me six feet" Guacamole
Try Alton Brown's homemade guac recipe! It's so easy to make and best when made with quality, union picked, packaged or produced ingredients!
3 medium ripe Hass avocados
1 tablespoons lime juice from 1 medium lime
1/2 teaspoon kosher salt (Colonial, Diamond Crystal, Monarch, Morton, Nifda, Red & White, Sterling, Sysco)
1/2 teaspoon ground cumin (Watkins)
1/4 teaspoon ground cayenne pepper (Watkins)
1/2 cup onion
2 small Roma tomatoes (Sunripe)
1 large clove garlic
1 tablespoon fresh cilantro (Muranaka Farms)
1/2 jalapeno
Place the avocado pulp and lime juice in a large mixing bowl and toss to combine. Add the salt, cumin and cayenne and mash using a potato masher, leaving some larger chunks for texture.
Add the onion, tomatoes, garlic, cilantro and jalapeno and stir to combine. Lay plastic wrap directly on the surface of the guacamole and allow to sit at room temperature for 2 hours before serving.
"Stay at Home" 7 Layer Dip
This Fiesta 7 Layer Dip recipe from Food Network is made with delicious layers of refried beans, sour cream, and cheese. You won't be able to get enough of this beautiful dish.
10 oz can of diced tomatoes and green chilies, drained, liquid reserved (Del Monte)
16 oz each refried beans
12 oz refrigerated guacamole
16 oz sour cream (Breakstone, Country Fresh, Deans, Prairie Farms )
1.25 oz taco seasoning mix
1 cup shredded Cheddar and Monterey Jack cheese blend (Hiland Dairy)
2.25 oz sliced ripe olives, drained
1/4 cup sliced green onions
Reserve 1/2 cup drained tomatoes; set aside. Blend remaining tomatoes and reserved liquid with beans in medium bowl.
Spread bean mixture in 8×8-inch glass baking dish or round casserole dish. Top with guacamole.
Blend together sour cream and seasoning mix in small bowl. Spread over guacamole. Top evenly with layers of cheese, olives, green onions and reserved tomatoes. Chill 2 hours prior to serving.
It's not a Party Until you Break Out the Chips and Salsa
Mission chips, salsas, and dips
Old El Paso chips, dips and salsas
Doritos
Frito-Lay Chips
Tostitos chips, salsas, and dips
Pace Salsa
Sun Chips
Chi-Chi's Salsa
Click here to view all of the Union Plus recipes!