April 12, 2019
It is with great sadness to relay to you the passing of former District 17 Secretary-Treasurer Maynard Daniel.  His wife Lois Jean Daniel was the former secretary for District 30.
Brother Daniel was born February 4, 1932. He passed away at the age of 87 on Wednesday, April 10, 2019. The family will be holding two services for Brother Daniel, one for his family in Kentucky and another for his friends and family in West Virginia.
"Brother Daniel was a long-serving elected official of District 17, first as an auditor then eventually the Secretary-Treasurer of the District. Even after his retirement he stayed dedicated to the Union often helping local unions in the area with filing their reporting forms with the federal government," said President Roberts. "He was a mentor to me after I became Vice President of District 17 in 1977. He was a very dear friend of mine and he will be truly missed by all who were fortunate enough to know him."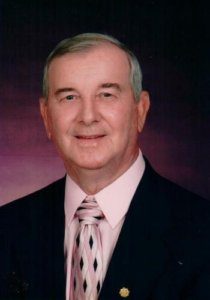 Kentucky Service:
Date: Saturday, 4/13/19
Visitation: 11:00 a.m. – 1:00 p.m.
Service: 1:00 p.m.
Location: Bluegrass United Church of Christ – 500 Don Anna Drive, Lexington, KY 40511
West Virginia Service: 
Date: Sunday, 4/14/19
Visitation 12:00 p.m. – 2:00 p.m.
Service 2:00 p.m.
Location: Armstrong Funeral Home – 39687 Coal River Rd Whitesville, WV 25209
A burial service will follow at the Pineview Cemetery – 21557 Coal River Rd, Orgas, WV 25148