Source: Williamson Daily News
MATEWAN — The award winning Matewan Drama Group recently met at the UMWA Local 1440 Union Hall in downtown Matewan to discuss plans for the annual Matewan Heritage Day, which will also mark the centennial of the deadly Matewan Massacre.
Donna Paterino, who started the drama group in 2000 and has been there since the first re-enactment as both director and a performer, said that everything she has done for the past two decades has been leading up to this year.
"Twenty years ago when we started, it was all leading up to this," Paterino said. "I've waited 20 years for this year, the 100th anniversary of the historic Battle of Matewan."
The Battle of Matewan, also known as the Matewan Massacre, was a deadly shootout among local officials, coal miners and the Baldwin-Felts Detective Agency that left 12 people dead in the streets of the small coal mining town.
The Matewan Massacre Drama Group always performs two re-enactments of the deadly events that occurred in downtown Matewan during the annual Matewan Heritage Day, which is scheduled from 11 a.m. to 3 p.m. Saturday, May 16.
Paterino said that in the year 2000, former Matewan Mayor Johnny Fullen and U.S. Rep. Nick Rahall secured a $3,500 grant through the Matewan Development Center from the Appalachian Regional Commission for the first re-enactment.
"The first thing that happened after we got that grant, a man named Alfred Collins came to see me and said, 'I want the local UMWA on board, they need to know what you are doing,' " Paterino said. "So, we have had the support of our Local 1440 since the beginning."
Collins was the president of the Local 1440 at the time. Now his son, Frank Collins, serves as the president. Collins attended the meeting and said the drama group does a good job of preserving their history and making sure that it carries on.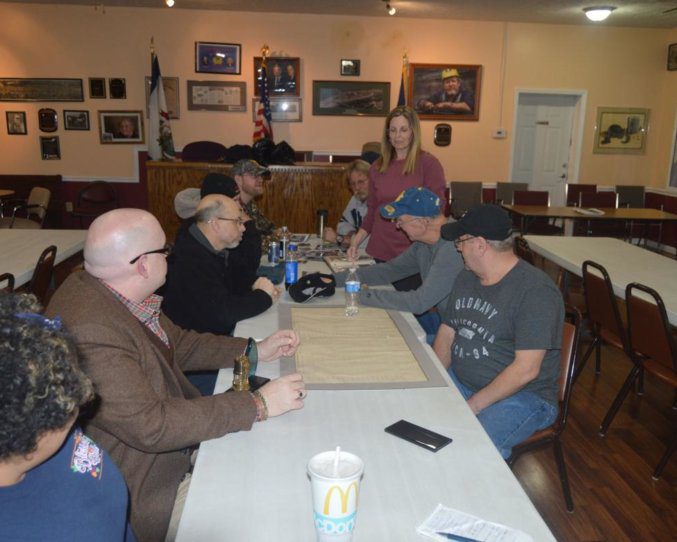 Paterino said they make it a point to not change what happened on that day in May 1920, and have added a new scene every year.
"We aren't in the business of selling tickets; this isn't Hollywood," said Eric Simon, who plays the part of Matewan Chief of Police Sid Hatfield. "History is history, you can't change it. People need to know what their fathers and grandfathers fought for all those years ago."
Chris Gray, who plays the part of Mayor Cabell Testerman and has been a member of the drama group since 2002, said the drama tells an important part of West Virginia history that is often overlooked.
"I grew up in nearby Welch in McDowell County, right where Sid Hatfield and Ed Chambers were gunned down," Gray said. "Growing up, for the most part, I didn't hear anything about this. I didn't even hear about it in West Virginia history. They kind of glossed over that when I was in school."
The drama group, which received the Coal Heritage Achievement award in 2013, will once again perform the Matewan Massacre Drama two times on Matewan Heritage Day, with the first performance at 11 a.m. and the second at 3 p.m.
Paterino said this year's drama will include a new scene where the crowd will have to follow the actors across town to the former BB&T Bank building, which is going to be the new home for the Mine Wars Museum. The building is also going to be named after UMWA President Cecil Roberts.
"We've never received any money for what we've done over the years, and we aren't professionally trained actors," Paterino said. "We're just a group of volunteers who come together each year to tell a story that needs to be told."
The theme for this year's Matewan Heritage Day is "honoring all who fought for freedom and justice," according to Paterino.
As part of the event schedule, Huntington native Jim Lackey will host a mining scrip display from companies all over West Virginia. Christy Bailey of Coal Heritage will also present a walk through the history.
There will also be a 1920-era vintage car cruise-in, and they are inviting attendees to dress in clothing styles from that period. Sundown will perform live music during intermissions of the re-enactment.
The winners of the annual student poster contest will also be announced and receive special recognition. The competition is for eighth grade art students in the county, and the posters will be judged by the local UMWA. They need to be submitted by Feb. 14.
Paterino also wanted to invite all cast members who have taken part in any of the previous seasons to come for a reunion photo and invited all local crafters to participate in the flea market.
"Every year we do this, we try to make every year special to honor those families that were affected all of those years ago, but this year will be extra special," Paterino said.
Anyone interested in being a part of the cast for the Matewan Massacre Drama or who wants to set up at the annual flea market can call Paterino at 304-235-0484.
Written by: JARRID McCORMICK Williamson Daily News