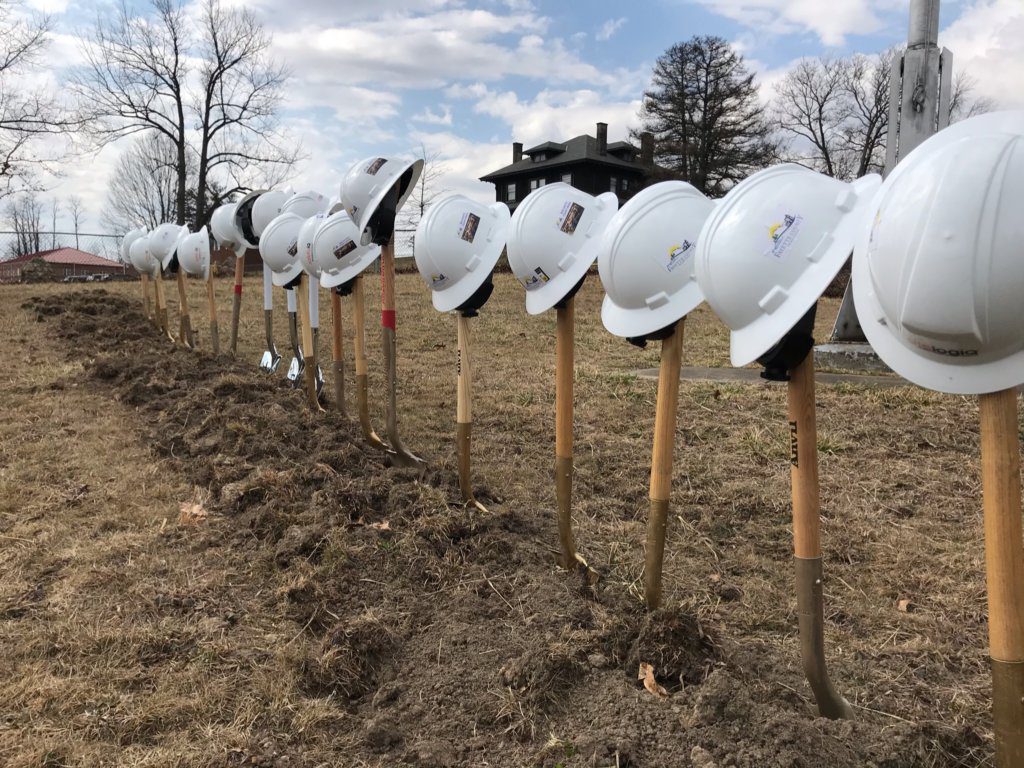 On Thursday, March 11, 2021, Fayette County, Pennsylvania and the United Mine Workers of America celebrated a long-awaited victory. UMWA staff, International Executive Board members, International Executive Board Emeritus members, local union officers and policy makers attended the ceremony at the site of where the new Fayette County Prison would be erected. The current Fayette County Prison facility is over 130 years old and stands in the heart of Downtown Uniontown in southeast Pennsylvania. In July of 2013, International Safety Director of Field Operations Ron Bowersox conducted a safety inspection of the facility and deemed it, as all that visit Fayette County Prison do, 'an abomination to health standards and an utter slap in the face to prison inmates and corrections officers.'
"Every single person that visits Fayette County Prison says it's the worst prison they've seen in at least 20 years," said Chris Bennett, International District 2 Representative. "We have waited years and years with no movement but are now breaking ground and finally moving forward for our members."
Local Union 9113 Acting President Kevin Locke and Recording Secretary and Grievance Committee member Shannon Matty were ecstatic at the plan being finalized to relocate Uniontown's crumbling prison. "We've been waiting 17 years for a new start with this facility," said Matty. "Being located downtown and having inadequate space, we would have to transfer inmates down the street for the public to see", said Locke. "If inmates were sick, we didn't have the ability to keep them isolated and illnesses would spread like wildfire."
Seven years ago, in November, 2014, the Pennsylvania Department of Corrections issued a report stating the facility "does not meet minimum operating standards." Since then, the UMWA has worked tirelessly to make the relocation and construction of a new Fayette County Prison a reality. The sanitary conditions at the current prison present a danger to UMWA correction officers and inmates. "In 2015, I took a personal tour of the facility, if that's what you want to call it," said President Cecil Roberts.
Working Conditions are Our Top Priority
Since this fight started, UMWA District 2 and Region 1 Officers and Staff have attended several local meetings, commissioner meetings, the UMWA has held and attended rallies, the UMW Journal has written several articles describing in great detail the deplorable conditions of the prison. The union has filed com-plaints and sent several letters to the Prison Board and Board of Commissioners.
At the December 19, 2019, Fayette County Commissioners meeting the Commissioners passed a 2020 budget that included funding for the prison rebuilding project. The estimated cost of the new prison is $40 million and was anticipated to take four years to build. "This ceremony marks a transition point for the prison workers and citizens of Fayette County," said International District 2 Vice President Chuck Knisell. "The modernizing, updating and re-entry program of this prison is not only a service to the community for years to come, it's a great day for workers."
"This is the largest rebuilding program in the history of Fayette County," said Region I Director Mike Payton. "The workers deserve this facility, and I want to thank everyone from the District, Region, and Local Union for working so hard to get this done."
Meetings have been held every two weeks virtually during CO-VID-19 in preparation for the prison building project. By spring, 2023, the new Fayette County Prison is anticipated to be completed. President Roberts and Secretary-Treasurer Allen would like to thank everyone that helped turn this longstanding fight for workers into a success, including UMWA retirees, the members and officers of Local Union 9113 and UMWA staff at the District and Regional levels.