Local Union 1058 President Dave Laurie began his mining career on January 28, 1970, at the Humphrey Mine in Mount Morris, Pennsylvania. He worked as a general laborer and trackman on the afternoon shift and was laid off from that job after a short period of time. Upon returning to the mine, he worked as an inside tipple operator until his retirement in December of 1993 when the mine was shut down.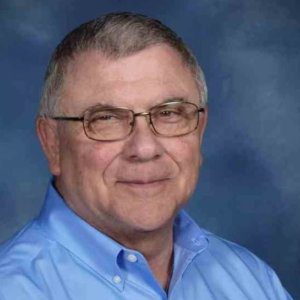 Brother Laurie has served as the Local Union President for roughly 20 years and has been the Safety Chair-person for 24 years. He also serves on the UMWA's Chaplain Corp and on the COMPAC, Organizing, Mine Grievance and Pensioner Leadership Committees. "I could not ask for a more dedicated union Brother than Dave," said International District 31 Vice President Rick Altman. "He has done more than his fair share since his retirement. He has lobbied on Capitol Hill and attended rallies all over the country. Anything the union has called upon him to do, he has been there every step of the way."
Since retiring, Brother Laurie has been busy supporting the union at every turn. He has been to rallies in Charleston, WV; Lexington, KY; Columbus, OH and Washington, DC, just to name a few. He was an arrestee in September, 2016, wherein more than 10,000 people were in attendance for a rally held to push for the lifetime health care and pensions for UMWA retirees that were earned over a lifetime of back-breaking work. "I felt it was my obligation, and I never hesitated about being arrested," said Brother Laurie. "My fellow brothers and sisters were promised their health care and pensions, and I felt it my duty to do anything I could to help them get what they were promised."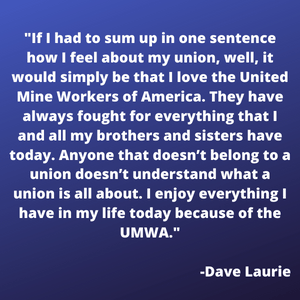 "Brother Laurie has been a good friend of mine for many years now," said President Roberts. "He has been to numerous rallies over the past several years and has been a bus captain on every trip he has made. I think anyone would agree that being a bus captain isn't as easy as it sounds. He was arrested at our Nation's Capital with 100 of his union brothers and sisters. His dedication to the United Mine Workers has been unwavering, and I know as long as Brother Laurie is able to, he will be the first in line to do anything he is called upon to do for our union."
Brother Laurie hails from Morgantown, WV, and has been a member of District 31 since he started in the mines in 1970. "I've been to numerous UMWA events and functions during my tenure with the union and have seen first-hand the dedication that Brother Laurie has to this union," said International Secretary-Treasurer Sanson. "Whether it's getting on a bus to attend a rally, walking the halls of Congress or simply helping a fellow member at the mine or a local union meeting, he is there at every turn."
Actively Retired is a regular feature highlighting UMWA retirees still working on behalf of the union. If you'd like to recommend a retiree to appear in Actively Retired, write to the UMW Journal, UMWA, 18354 Quantico Gateway Drive, Suite 200, Triangle, VA 22172, Attn: Actively Retired. Please include your name, local union, a telephone number and a brief explanation of why you're nominating the individual.