Source: Union Plus
June 16, 2021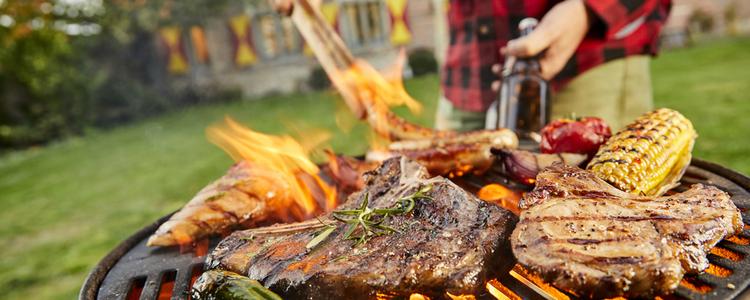 Fire up the grill for summer! We've got a line up of the best union-made/packaged hot dogs, beef, beer, grilling tools AND RECIPES to make your next BBQ the best ever! No backyard? No problem! Set up the grill on your patio, balcony, courtyard or driveway. Happy grilling!
Union-Made Grilling Recipes
Union-Made Hot Dogs:
Al Pete
Armour
Ball Park
Boar's Head
Brummel & Brown
Conti's Texas Brand
Country Crock
Country Fair
Disney Beef Frank
Farmland
Foster Farms
Hormel
Imperial
John Morrell All Beef Hot Dogs
Luther's Hot Dogs
Oscar Meyer
Poultry, Inc.
Snappy's
Sugardale Foods
Sunnyland
Swift
Ted's
Wardynski
Wenzel's
Chicago-Style Hot Dogs
It's not a barbeque without hot dogs! Of course ketchup, mustard and relish are the classics, but maybe mix it up with this fully-loaded Chicago-Style Hot Dog recipe from Martha Stewart.
Ingredients
1 tablespoon grainy mustard
2 teaspoons white-wine vinegar
Coarse salt and ground pepper (Colonial, Diamond Crystal, Monarch, Morton, Nifda, Red & White, Sterling, Sysco)
1/4 sweet onion, thinly sliced
1 Kirby cucumber, cut into thin strips
1 tomato, halved, seeded, and thinly sliced (Sunripe)
1/2 cup celery leaves
2 tablespoons chopped sport pepper or peperoncini
4 beef hot dogs
4 hot dog buns, grilled (Arnold, Earthgrains, Nature's Harvest, Oroweat, Stroehmann, Sara Lee)
4 pickle spears (Anchor's, Bicks, Cisco, Moore's, Pickles in a Bag, Red Brand, Vlasic)
Relish (Claussen, Vlasic)
Directions
In a medium bowl, whisk together mustard and white-wine vinegar; season with salt and pepper. Add sweet onion, cucumber, tomato, celery leaves, and sport pepper; toss to combine. Grill hot dogs over medium-high heat until charred and heated through, 6 to 8 minutes. Serve hot dogs in grilled hot dog buns and top each with a pickle spear and relish.
Union-Packaged Beef
Better Beef
Beef Products, Inc.
Chiappetti
Daisyfield
Elbee Meats
Ember
Excel
Farmland Foods
Holten Meat Company
Kirshner
Raley's
Thumann's
Wispak
Grilled Burgers
Try Ree Drummond's simple and delicious Grilled Burger's recipe. You only need a handful of ingredients and a hot grill to make these juicy burgers.
Ingredients
Vegetable oil, for the grill (Best O' Veg, Dairy Fresh, Great Value, Western Family)
3 pounds 80 percent lean ground beef
Kosher salt and freshly ground pepper (Colonial, Diamond Crystal, Monarch, Morton, Nifda, Red & White, Sterling, Sysco)
Tabasco sauce, to taste
6 Kaiser rolls (Arnold, Earthgrains, Nature's Harvest, Oroweat, Stroehmann, Sara Lee)
6 tablespoons unsalted butter, softened (Dairy Fresh, Hiland Dairy, I Can't Believe It's Not Butter, Land O' Lakes Butter, Prairie Farms)
Directions
Preheat a grill to medium high and oil the grates. Place the ground beef in a medium mixing bowl. Add 1 1/2 teaspoons salt and 3/4 teaspoon pepper. Add a few dashes of Tabasco sauce, then with your hands, mix the meat and seasoning well. Form the meat into six 1-inch-thick patties and place on the grill. Cover and cook 3 minutes, then rotate, leaving them on the same side, and cook 3 more minutes. Flip and repeat on the other side. Meanwhile, slice the rolls in half and spread each cut side with 1/2 tablespoon butter. Grill the rolls, cut-side down, until lightly toasted. Build the burgers with assorted toppings.
Click here for more recipes!