Decades of struggle by working people and our unions have improved working conditions and made jobs safer, but it has not been enough. This year we are coming together to strengthen our rights and protections to ensure everyone can come home safely at the end of a work shift—and without chronic illnesses from toxic exposures at work.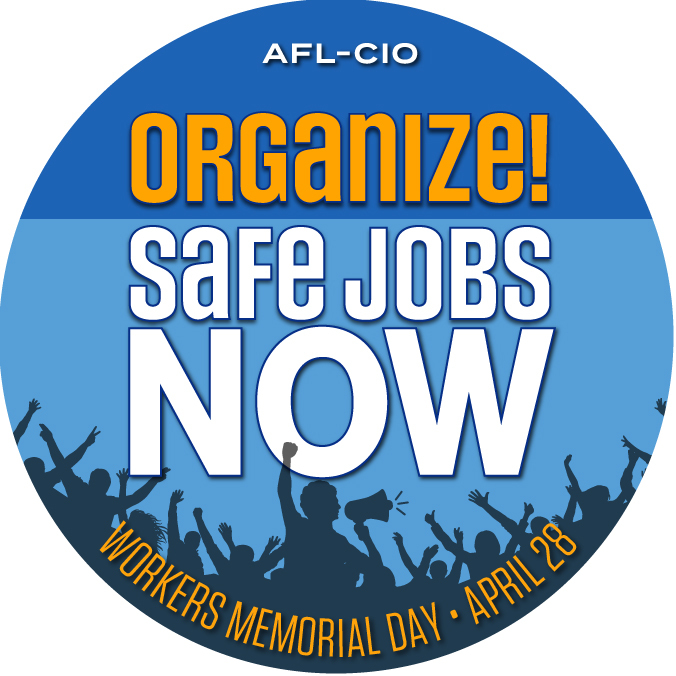 Click HERE for a copy of the AFL-CIO's Workers Memorial Day Tool-Kit! 
The Mine Safety Health Administration and the U.S. Department of Labor hosted a roundtable this year to recognize and honor workers who have lost their lives due to preventable workplace injuries or illnesses. UMWA Local Union 9909 Member Jesse Stolzenfels contributed to this discussion. The roundtable will be streaming live, Thursday, April 28, 2022 at 1:00 p.m. EST and will be viewable below.
What You Can Do on WORKERS MEMORIAL DAY
There are many ways to recognize Workers Memorial Day:
Organize an online campaign to call for stronger safety and health protections
using our digital toolkit. Demand that elected officials put workers' well-being over
corporate interests.
Organize an outdoor, socially distanced event at your workplace to stand together
to protect the fundamental right to a safe job for every worker and hold your
employer accountable for keeping you safe.
Hold a candlelight vigil, memorial service or moment of silence to remember those
who have died on the job, and highlight job safety problems in your community.
Host an event with members of Congress in their districts. Involve injured workers
and family members who can talk firsthand about the need for strong safety and
health protections, the ability to speak up against unsafe working conditions,
and joining together in union to keep workplaces safe. Invite local religious and
community leaders and other allies to participate in the event.
Conduct workshops to train and empower workers to report job safety hazards and
exercise workplace rights. Invite union members, nonunion workers and community
allies to participate.
Create a new memorial site at a workplace or in a community where workers have
been killed on the job.
Create and share an online photo and storyboard campaign on social media to
remember workers who have been killed on the job.
Invite the press to your Workers Memorial Day events to increase public awareness
of the dangers working people face on the job.
Continue to hold our leaders and employers accountable to provide safe working
conditions. As a labor movement, we Mourn for the Dead and Fight for the Living on
April 28, and every day of the year.
Click HERE for a copy of the AFL-CIO's 2022 Death on the Job report.