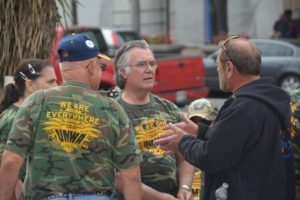 Secretary-Treasurer Kane discusses the consequences of the EPA Clean Power Plan Rule with members prior to one of many UMWA rallies.
"The UMWA is battling on many fronts to secure jobs for active miners and retirement security for pensioners and their families.  Many of these problems have political solutions."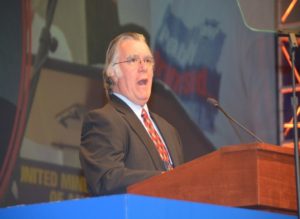 Secretary-Treasurer Kane addresses the Delegates to the 55th Consecutive Constitutional Convention. The lack of political support for working men and women were the focus of his remarks.
"Endorsing candidates by the Union is a straight-forward process.  The membership determines who the best candidate is at every level of the selection process."
Secretary-Treasurer Kane discusses the legislation to fix UMWA retiree benefits with members of the Congressional Black Caucus.
"In order to pass legislation, we need to move it through 435 members in the House of Representatives and 100 Senators without anyone deciding to kill it.  We have been very close to accomplishing this in the past two Congressional sessions, and we are continuing to do all we can to move that legislation forward in the current Congress."
To read the full article, contact the Journal Department (journal@umwa.org or 703-291-2405) and subscribe to the United Mine Workers Journal.