On June 8, 2022, MSHA launched an enforcement initiative to conduct silica dust-related mine inspections and expand silica sampling in mines. The goal of the initiative is to limit miner's exposures to respirable crystalline silica. The initiative has four components: inspections, sampling, compliance assistance and miners' rights.
Workers can inhale silica dust during mining and other operations, including cutting, sawing, drilling or crushing materials, such as rock and stone. Silica can damage lung tissue and lead to lung disease, coal workers' pneumoconiosis, chronic obstructive pulmonary disease or incurable silicosis. OSHA estimates that 2.3 million workers are exposed to silica dust annually.
Under the initiative, MSHA will conduct spot inspections at coal and metal and nonmetal mines who have a history of repeated silica overexposures, while expanding silica sampling at mines and offering compliance assistance to mine operators.
"Coal Miners' Pneumoconiosis or black lung cases have been on the rise among coal miners for several years now," said Secretary-Treasurer Sanson. "Silica dust expo-sure has been proven to be the cause. As MSHA works to develop a new silica standard, they have launched this enforcement initiative aimed at boosting protections against silica as a bridge until the new rule is finalized."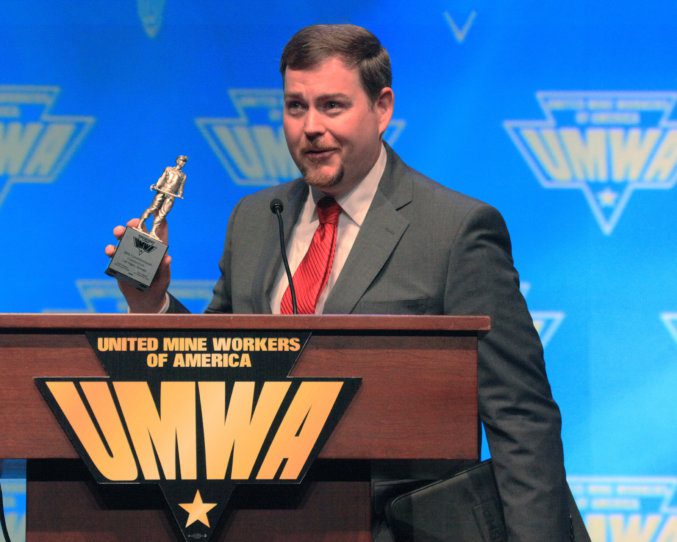 UMWA Applauds the Initiative
Assistant Secretary of Labor for Mine Safety and Health, Chris Williamson, attended the UMWA's 56th Consecutive Constitutional Convention in Las Vegas, Nevada in June and laid out the agency's new enforcement initiative.
"MSHA will conduct spot inspections for silica at coal and metal and nonmetal mines in accordance with section 103(I) of the Mine Act," said Williamson. "MSHA will collect respirable dust samples from occupations known to have a high-risk of exposures to silica," William-son continued.
"And MSHA will reinvigorate efforts to educate miners about their rights to make hazardous conditions complaints and their protections against retaliation and discriminations."
President Roberts and Secretary-Treasurer San-son thanked Williamson for speaking directly to the delegates at the convention and for spearheading the new enforcement initiative to reduce miner's exposure to silica dust.
"More than a hundred thousand coal miners have lost their lives to the effects of black lung, and we have seen a significant rise in black lung cases amongst younger miners for several years now," said President Roberts.
"It is good to know that MSHA is stepping up enforcement of silica exposure as it prepares a new rule for controlling silica dust," Roberts continued. "We know what causes black lung and how to prevent this deadly disease from stealing the lives of our nation's coal miners."
In 2019, Roberts said in a statement, "We are seeing the most serious levels of black lung, mainly caused by silica, and there are no silica standards out there. We desperately need more." Today, Roberts, along with Secretary-Treasurer Sanson, said the new enforcement initiative is a tremendous start in the right direction to protecting our nation's coal miners from becoming gravely ill or even dying from exposures to silica dust.
Other Important Aspects of the Initiative
Increased oversight and enforcement of known silica hazards at mines with previous citations for exposing miners to silica dust levels over the existing permissible exposure limit of 100 micro-grams per cubic meter of air. For metal and non-metal miners in which the operator hasn't abated hazards in a timely fashion, MSHA will issue a 104(b) withdrawal order until the overexposure hazard has been abated. For coal miners, the agency will encourage changes to dust control and ventilation plans to address known health hazards.
Reminding miners of their rights to report hazardous health conditions, including attempts to interfere with the sampling process.