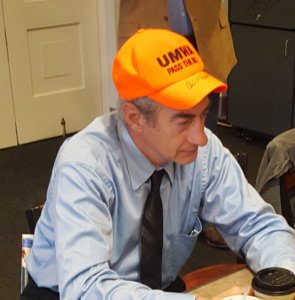 Mark Rankin never worked a day for Patriot Coal Company, but he has been fighting for over four years to keep the health care and pension he was promised since Patriot first sought bankruptcy protection in 2012.  Brother Rankin, a member of UMWA Local Union 1570, worked more than 25 years at the Federal #2 Mine in Marion County, West Virginia.
The mine was originally owned and operated by Eastern Associated Coal Company and later sold to and held as a subsidiary of Peabody Coal Company.  Both of these companies were signatory to UMWA contracts that promised health care and pension benefits for life, as spelled out in the 1946 Krug-Lewis Agreement the union reached with the federal government.
So when Mark retired in 2002 because of health concerns, he was confident his retirement benefits were secure. But the spin-off of Eastern and several other coal subsidiaries owned by Peabody and Arch Coal into Patriot put Mark and his family's future in jeopardy.
"I worked my entire career for Eastern and Peabody," said Mark.  "I was injured in the mines and required extensive back and neck surgery.  I have also been diagnosed with pneumoconiosis (black lung disease) and the possibility of losing the heath care and pension I was promised is scary."
"I am disabled because of the work I did at the mine," said Mark.  "I can't possibly find another job given the condition of my health.  If I lose my benefits, I will have to decide whether to buy food or my prescription medication.  This is not what I worked for all my life and it's certainly not what my company or my government promised."
On April 30, 2017 thousands of retirees like Mark, their dependents or widows will lose their health care if Congress doesn't act and pass the Miners Protection Act.  You can help. Contact your representatives in Congress, tell them to pass S-175 and HB-179, and live up to their obligation to the Nation's miners.